Videx 4820 LCD display/Voice 4000 Series module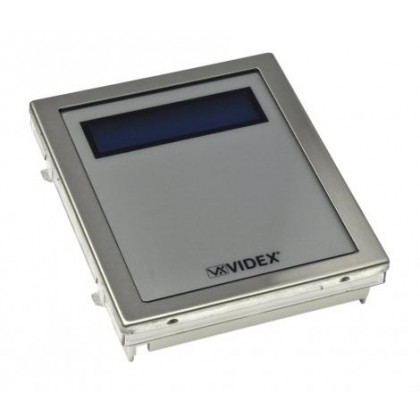 The module will work with the 4837, 4838, 4832 and 4833 (VK4K) amplifier modules. Working in conjunction with these modules it will display call progress information on a single line back lit 16 character LCD display and will verbally announce the stage of the call. Using specially designed PC software it will allow the installer to customise the text shown on the LCD display. Additionally it also allow the programming of auxiliary messages which can be manually triggered by an end user. Up to 10 call buttons; the module can address up to ten call buttons announcing the full apartment number both verbally and visually on the display. The display can also show the tenants/company name (Up to 16 characters). Aux. inputs; the auxiliary inputs are triggered by a ground to one of the three input terminals. Once triggered a user programmed message will be displayed (Up to 16 characters each). Call progress messages; the following call progress messages are displayed on the LCD display. All of which are fully programmable (Up to 16 Characters):-
Standby message (Prompts the user to press a button)
Second standby message (Switched with the standby message to display other text such as the building name)
Call in progress message.